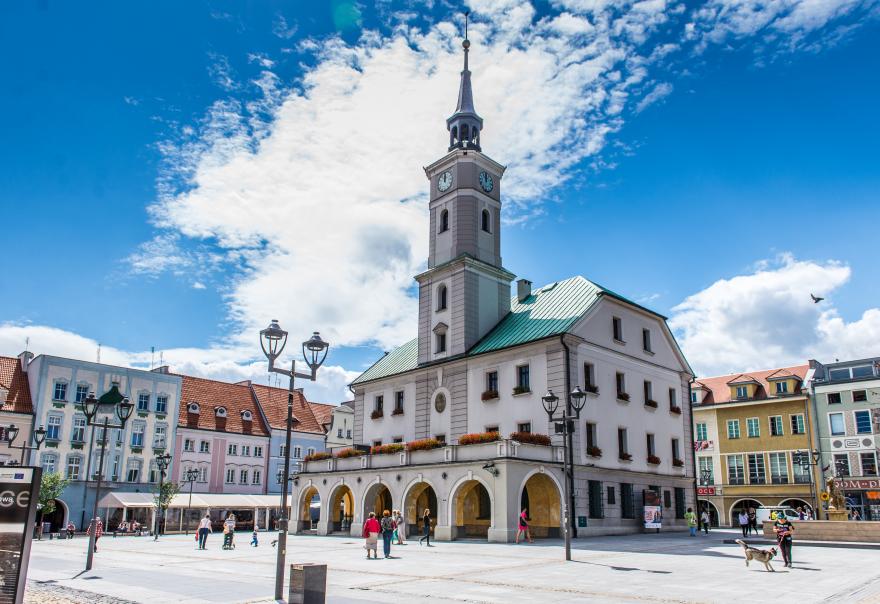 The City Hall located in the centre of the Main Square was reconstructed several times over the course of its history. In the Middel Ages and in modern times, the ground floor of the City Hall included a court room and several smaller rooms, including the apartment of the city scribe and a city guards room, whilst the city council presided on the first floor. The cellar was the place where beer and wine was sold. Today, the City Hall remains a representative point on the map of Gliwice because of City Council meetings, weddings and important cultural events taking place therein.
The rectangular, two-floor shape of the City Hall was built in the 15th century, however, it remains unknown whether it initially had a tower. Remains of a later, 16th century tower are located beneath the ground level of the Square. The tower preserved until today was probably built after a great fire of the city in 1601. During 1784–1789, master mason Fritsch increased the height of the tower, supervised by a construction inspector Franz Ilgner, and further thoroughly modified in 1842 by a construction expert named Uhlig, according to his own design. The dome of the tower was then covered with copper sheets and a new ball with a spire was installed on the top of the dome. This ball was opened during City Hall repairs in 2002 and a rage of city memorabilia was retrieved, including a handwritten city chronicle. These objects are now stored in the Museum in Gliwice. In 1920s, the facades were modified and took the neoclassic looks still admired today. Currently, the building has a four-level clock tower with a dome and a spire and arcades added on its north side in early 1980s. The wall below the spire is adorned with the historical coat of arms of Gliwice, granted to the city by Emperor Ferdinand II in 1629 in recognition for merits during invasion of Mansfeld forces during the Thirty Years' War. This coat of arms is a reference to the miraculous protection of the city against Protestant forces by the Blessed Virgin Mary.
Two plates commemorating passage of armed forces led by king Jan III Sobieski through Gliwice to relieve Vienna have been embedded in the City Hall walls, funded on the 200th and the 300th anniversary of these events.
A stone sculpture of the Virgin Mary of Immaculate Conception by Johann Melchior Österreich is placed on a pedestal near the east wall. It was funded in 1720s. Placement of a Mary sculpture within the space of the square was a frequent practice in Upper Silesia, however, blending the figure into the architecture of the city hall is the only known example of this type, speaking volumes of the protection of Virgin Mary over the city. The sculpture could possibly be funded to commemorate the one hundredth anniversary of the city being saved from Mansfeld forces in 1626.