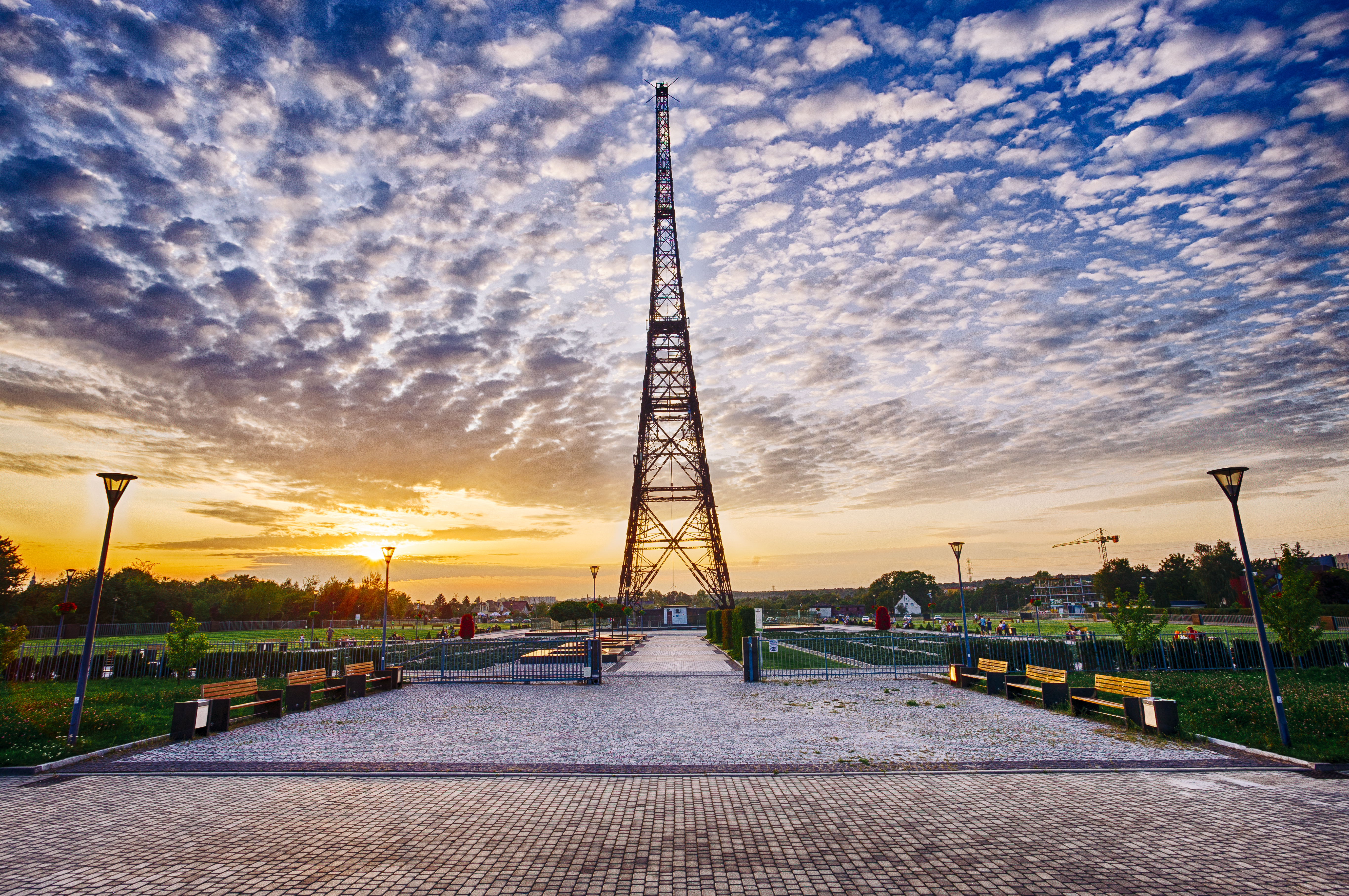 ul. Tarnogórska 129
Gliwice
The antenna tower of Radio Station Gliwice is one of the most interesting technical heritage sites in the Silesian region and the tallest wooden structure in Europe (111 m). It was built in 1935 by a German company – Lorenz, of impregnated fir wood, particularly resistant to pests and weather conditions. The beams were joined using 16 thousand brass screws. The radio station transmitted Radio Wrocław programmes, sent via a cable from the old studio located at the current ul. Radiowa, where local programs providing a part of the daily radio routine were produced. In 1939, the radio station buildings became location of the so called Gliwice provocation – a mock attack of a special unit of German forces on a German (and thus, own) site, a part of a propaganda and disinformation preparing aggression towards Poland. After the war, the site was briefly used to transmit Radio Katowice programs, followed by its use as a station blocking Radio Free Europe. The historical antenna tower is still used for communication purposes holding several tens of various antennae, which by no means depreciate its value as a sight-seeing spot.
A branch of Gliwice Museum has been functioning here since 2008.
In 2009, Gliwice City renovated the area around the tower, which has been a location frequented by the locals ever since. The tower became a part of the city landscape. It is visible not from many locations, also outside Gliwice, particularly at dusk when it becomes lit by powerful headlights. The square around the Radio Station is named after Franz Honiok.
In 2010, the renovated Radio Station area won an award for the "Best Public Space of Silesian Voivodeship 2010" in the "Urban landscapes" category.
The Gliwice Radio Station forms a part of Silesian Voivodeship Industrial Monuments Route. On 15th March 2017 the tower was entered into the List of Historic Monuments. 
Visits:
Monday: closed;
Tuesday: 10.00–16.00;
Wednesday: 10.00–16.00;
Thursday: 10.00–16.00;
Friday: 10.00–16.00;
Saturday and Sunday: 11.00–16.00 (until 17.00 May–September).
The park around the tower is open as follows:
6.00–22.00 in the summer;
6.00–20.00 in the winter.
The park can be visited free of charge.
Important information
The radio station is located at a two-level junction of ul. Tarnogórska and al. Jana Nowaka-Jeziorańskiego. A bus parking space is available at ul. Lubliniecka, directly next to the tower. Cars and mini buses may also park at the property located at ul. Tarnogórska 129.